Parker Auto Group is Proud to Recognize First Responders Through the Hometown Heroes Program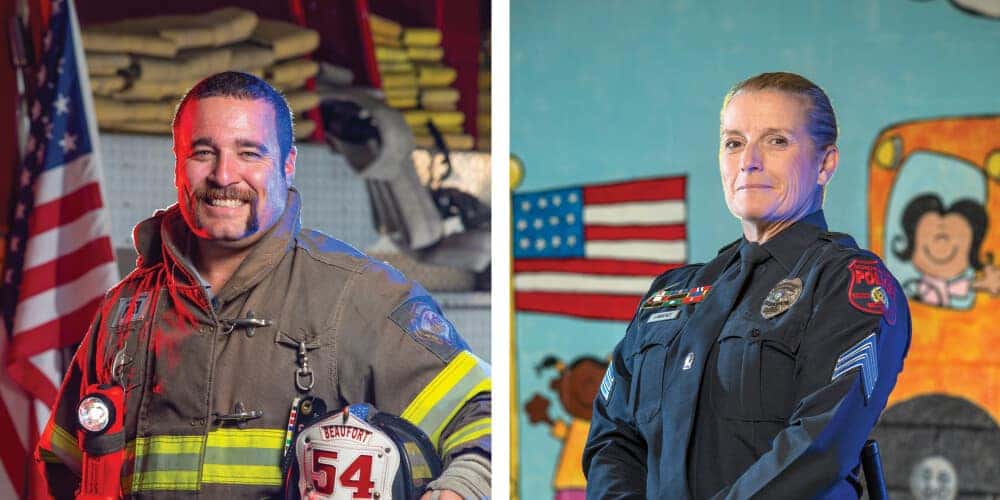 ---
Parker Auto Group is proud to partner with the North Carolina Automobile Dealers Association in honoring first responders from the Morehead City Police Department and the Beaufort Fire Department. The Hometown Heroes program recognizes North Carolina first responders for providing remarkable service to their communities.
The Honorees
Morehead City Police Department
Parker Auto Group nominated Master Police Officer Danielle Lawrence from the Morehead City Police Department. Officer Lawrence was a sworn law enforcement officer for the City of Newport News and Town of Smithfield, Virginia. She now serves as a school resource officer at Morehead Primary School. In addition to serving as a role model, mentor, and ambassador for the department, Lawrence is also in charge of the department's Special Olympics support program.
Beaufort Fire Department
Parker Auto Group nominated Captain Brian Beck from the Beaufort Fire Department. As a second-generation firefighter, Capt. Beck officially joined the Beaufort Fire Department in 2004, but at the age of 12, he signed on as a junior firefighter. Making youth outreach a top priority, Beck volunteers as a coach and also officiates many sports for local teams.
The Ceremony
Officer Lawrence and Captain Beck are invited to attend a ceremony in Raleigh where they will be recognized by Governor Roy Cooper along with the NCADA and presented with awards for their service. Parker Buick GMC is honored to be able to recognize these individuals for their exceptional community service.
Learn More About Our Community Involvement Near Morehead City
To learn more about how else Parker Buick GMC is working to support our community members, feel free to read about our donation efforts to Carteret Community College or contact us to find out what our future endeavors will be.